I have always loved strawberry picking.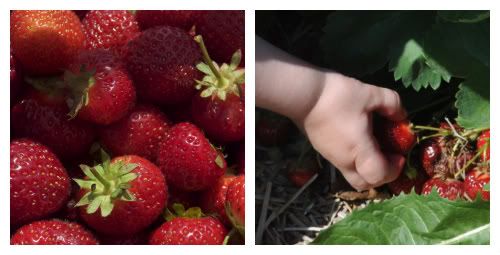 There's something about it that just makes me sigh and breath in summer, because of that,
I was so excited to take the boys berry picking for their first time this year.
It was too cute to watch them select their berries as they had very different styles.
Every berry Eli picked was saught out with near perfection. He would push his way through all the leaves in the bushes to make sure he choose the best looking berry in the cluster that he had found. He would then stand up, pick every bit of green stem off it and pluck it into his mouth. Once his berry was chewed and swallowed he would squat down and start the process over.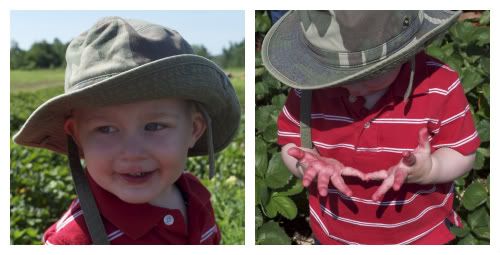 Zac, however, preferred to pick anything that was red and plunk it into his basket, his primary objective was filling his basket as full as he could. It took close to 30 minutes to convince the boy that it was ok to taste one, "no mommy, it goes in the basket not my belly, silly!"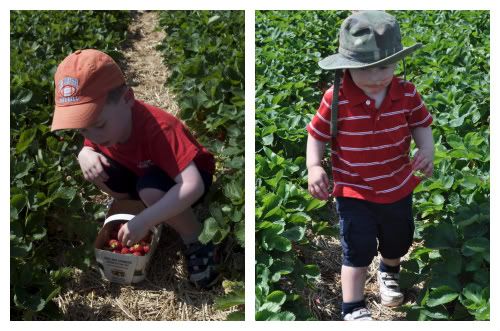 It was great fun.
I know I've said it before but I love pie.
So with berries on the mind I made this delish Strawberry pie that really couldn't be simpler!
Open Strawberry Pie
1 pkg of puff pastry
5 cups strawberries, cut into halves and quarters
1/2 cup sugar
1/4 cup corn starch
1 egg
1 tbsp water
2 tbsp (roughly) of apricot jam
Preheat oven to 475.
Mix the berries, sugar and cornstarch together and allow to sit while you roll out the puff pastry into a rough circle and place on a cookie sheet. Dump the berries into the middle of the dough (it's ok to pile them pretty high as they will cook down in the oven and spread your pie out a bit), and fold the edges of the dough up over the berries.
Beat the egg with some water and brush over the edges of the puff pastry and sprinkle sugar over the egg wash.
Place the pie into the oven and immediately turn it down to 375. Allow to cook for 30-35 minutes until the pastry has puffed up and is golden.
Heat the apricot jam in the microwave and pick out any chunks. Brush over the berries, it will give it a nice shiny finish.