Zac's Birthday Party was a pretty big success, if I don't say so myself!
The kids enjoyed themselves, the adults were able to talk amongst themselves and everyone seemed pleased as they wished Zac a happy day and went home.
Our church was kind enough to loan us the building and all the goods that went along with it.
We had access to all the tables, chairs, kitchen, toys and even a blow up castle. It was great because it allowed the kids so much more room to run around and play then my house ever could have and...
a blow up castle.
Seriously people... get the blow up castle.
It makes for remarkably easy entertainment!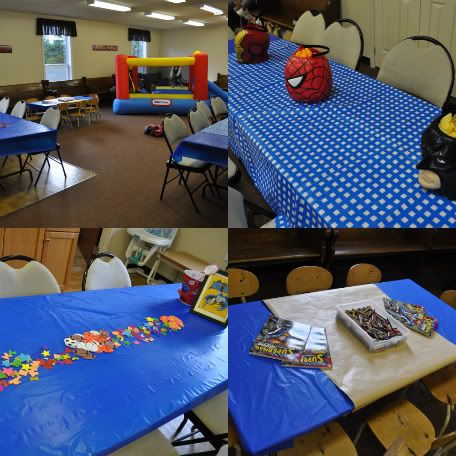 I had the room set up to allow for a lot of running room and with different stations so the kids would be relatively self entertained allowing the adults a bit of a parenting and social break.
I had a table set up for eating, which I decorated with Superhero heads (Halloween trick or treating tubs) filled with chips/cheesies/corn twists. I had another table set up with colouring books and crayons and another with felt/foam stickers and felt masks for the kids to decorate.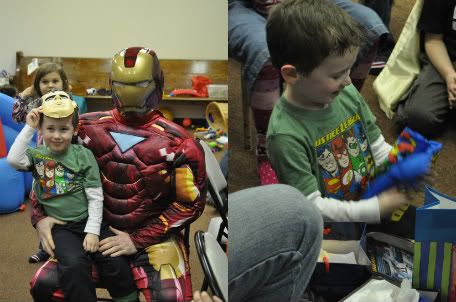 The highlight of the party was a surprise visitor who made the birthday boy feel extra special!!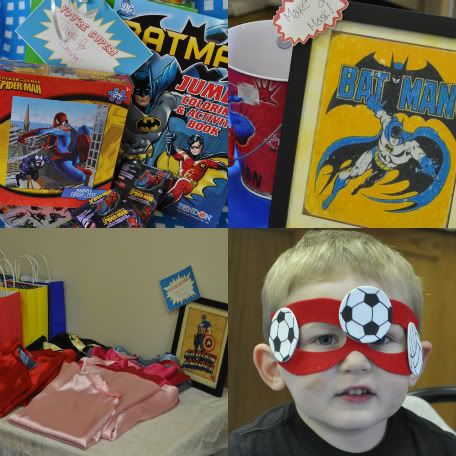 I sent each of the kids home with a
cape I made
for them and the mask they made (using
this
template). I also gave each family a bag with a colouring book for each child, some spiderman gummies and stickers each and a puzzle to share.
When I plan parties for my boys I always try to think of it as a super cool play date. I like the kids to have fun and enjoy each other and I like the parents to be able to relax and visit.