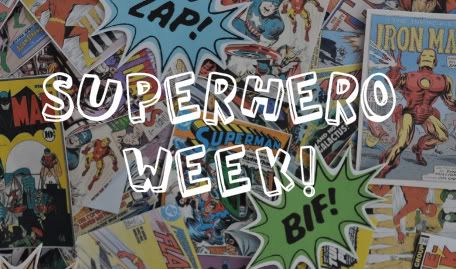 You simply can't celebrate a superhero's birthday party without the assistance of a superhero cape.
It's like celebrating flowers in winter... you can do it, it just makes very little sense.
In my mind a superhero party without superhero capes, makes very little sense.
I made a cape for each of the kids invited to Zac's party and am SO happy I decided to take on the commitment! It really was a simple and quick task that I think all of the kids enjoyed even more then I had anticipated!
I started by measuring Zac from his shoulders to mid calf (roughly 26").
I then went to my 1 meter of fabric and used my measuring tape similar to a protractor. I anchored it at the top corner and drew a line with a fabric marker swinging the measuring tape from one side of the fabric to the other.
I did this same thing using a 2 1/2" length at the top to form the neck hole.
When you unfold the fabric you will already see the cape shape!
If you would like a single sided cape, move on to the collar now, or if you would like a double sided cape (like I did), cut another piece to match and pin right sides together. Sew around the entire cape leaving only the neck hole open. Flip right sides out and press the edges flat.
To make the collar, cut 2 strips of fabric in a rectangular shape measuring 3" wide by 17" long. Pin, right sides together, and sew leaving one long side open.
Clip the corners on an angle, to avoid bulk.
Keeping right sides facing turn the fabric up roughly 1 inch and iron,
then turn the collar right sides out and press flat.
Stuff the neck of the cape into the opening of the collar and pin. This part can be a bit tricky but just go pin crazy and it will hold just fine. Top stitch the bottom of the collar.
You could sew velcro into the collar but I took a short cut and hot glued it.
You could also do an alternate collar by using a store bought quilt binding and tie it whenever your child goes to play. I have choking fears given that my kids pull the backs of capes all the time so I opted for the velcro.
My kids love them!!
Even straight out of bed!